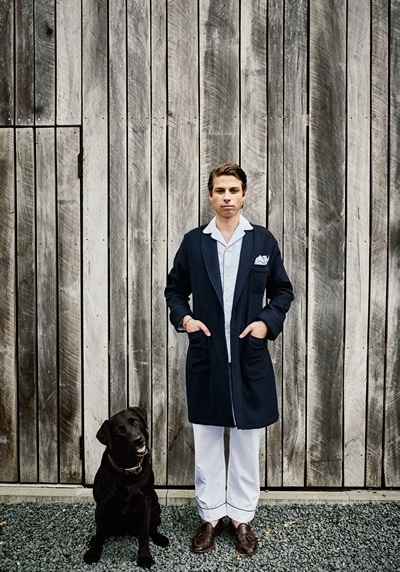 Created in winter 2012, with passionate know-how, and addressed to informed connoisseurs, the new Belgian brand created by Marcy Szwarcburt reflects an original concept of nightwear to be worn both indoors and outdoors during the day as by night, chic and trendy.
An absolute Must Have for the happy few
A subtle blend of cool elegance, nonchalance and an aristocratic dandy fantasy.
A quintessential dress code for the cream of the crop
A variation of subtle materials and very high quality accessories has been selected to create this collection and translate the brand's philosophy.
Pure Pima cottons, double and triple twisted, crisp poplins, oxfords or plain or lined cotton satins, checks or dots.
Exclusive prints are created each season according to its theme.
Mother-of-pearl buttons, braids, piping, and edging finish the garment which will be embroidered with interlaced double MM for the final touch.
Marcy Szwarcburt created his first pajamas in 1984
After more than 22 years at the helm of Donaldson and five years of wise thinking, Marcy has kept intact his aesthetic sense and his taste for things well done.
His know-how and his passion for beautiful materials, impeccable cuts and finishes as well as a very personal sense of humor are found in his new creation Maison Marcy